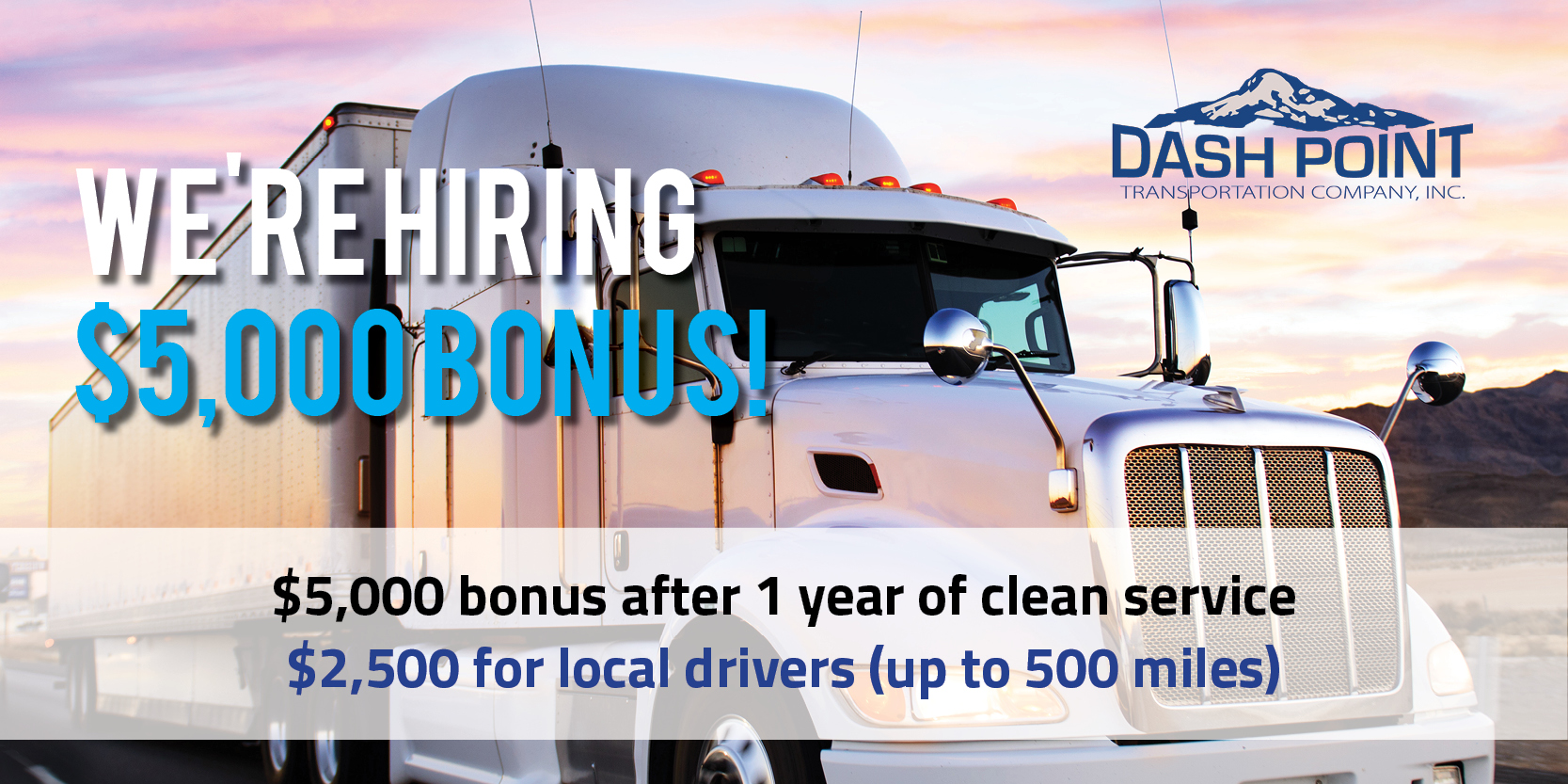 Class A Truck Drivers Wanted
Dash Point Transportation Company, Inc. – Federal Way, WA
Local drivers wanted
Responsibilities:
Will report to assigned dispatcher and transportation manager on daily basis.
Will be responsible for the safe operation of equipment (tractor and trailers) in accordance with all local, state, federal and DOT laws.
Will operate various types of trucks and trailers as needed (Ex: 2 and 3 axle tractors and 28ft, 45ft, 48ft, 53ft trailers)
Will use electronic tablet to record all activity (Ex: clock in/out, log book, and pickups)
Will perform pre trip and post trip on all equipment being used on a daily basis.
Will work as a team on a daily basis or when needed.
Will be responsible for the safe and accurate loading of trailers at customer locations.
Will ensure that routes are completed daily and in a timely manner.
Will ensure that all information inserted into tablet is correct.
Qualifications:
Minimum 3 years class A driving experience.
Pickup and delivery experience is a plus but not necessary.
Clean DMV record, no more than 1.5 points.
No moving violations or accidents in the past 2 years.
No DUI's in the past 10 years.
Must be able to successfully pass a road test.
Must have good backing skills. (will be tested at the time of road test)
Must have common knowledge of DOT regulations.
Must be able to lift, carry, push, and pull up to 50lbs.
Must be able to read, write, and speak English
Must be able to maintain good housekeeping on equipment.
Must pass pre employment drug test and background check.
Must be 25 years of age.
Areas: Lower 48, Alaska and Canada
Dash Point Transportation Company, Inc. is an equal opportunity employer.
Required experience:
Minimum 3 years class A driving experience.
Required license or certification:
HEADQUARTERS
Dash Point Transportation Company, Inc.
35000 Pacific Hwy S
Federal Way, WA 98003
Phone: 253-661-8605
Fax: 253-874-0319
Email: info@dashpointservices.com